Atlanta was the place to be last night as Theo James & Shailene Woodley hit the Red Carpet for a screening of the movie.
We have loads of pics, videos and also (spoiler free) fan reactions to the screening of the movie below.


LOADS More After The Cut
Click for Larger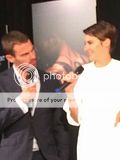 Sources
1
|
2
|
3
|
4 |
5 |
6 |
7
|
8
|
9
|
10
|
11
|
12
| 13
Check out more pics over at Just Jared
If you missed the video of Theo beatboxing on the Atlanta Red Carpet last night, check it out
HERE
AND don't forget we'll be on the Red Carpet in Toronto when the Tour makes a stop there tomorrow (Wednesday) more details about that HERE
So what did people think of the movie!?
Here are some reactions (spoiler free, of course)
Divergent was so much better than I was expecting! BEST MOVIE EVER!!! #DivergentTour #Divergent #Atlanta
— Ansleigh Williams (@ansleigh_99) March 4, 2014
@coastalkooks Divergent was so amazing!! Literally almost identical to the book and Veronica was in it too which was soooo cool!!
— Grace (@GraceValtz) March 4, 2014
& I SAW DIVERGENT WHICH MAY I SAY WAS ABSOLUTELY PERFECT OMG #divergent #atlanta
— Mary Diaz (@MaryDiaz10) March 4, 2014
Yesss that was amazing 😍 so who's up to I see it again in 17 days?😏👌 #DivergentATL #divergentatlanta @Divergent @shailenewoodley #TheoJames — Allison Browning (@allisonb12300) March 4, 2014
@shailenewoodley @AnselElgort #TheoJames portrayed the characters from the book flawlessly! @Divergent
— Alexa Polanski (@AlexaPolanski) March 4, 2014
Tonight was unreal! @Divergent was amazing! Everything I expected and more. Sitting down with the stars tomorrow! #Divergent
— Meghan Cooper (@JaMonkey) March 4, 2014
#Divergent @Divergent IM NOT GOING TO SPOIL IT BUT THE MOVIE WAS AMAZING. SUCH AN HONOUR TO BE ONE OF THE PEOPLE WHO GOT TO WATCH IT EARLY
— (@jess_thegrate) March 4, 2014
That was phenomenal. The cast were amazing. I cried, I laughed, I got tearing eyes at times. @Divergent #Divergent
— Leydy @ OUaT (@leydylaura) March 4, 2014
I cannot begin to express how great @Divergent was. They nailed it. Absolutely phenomenal! #Divergent #Atlanta #TheoJames @shailenewoodley — Allison Kate (@allisonkate89) March 4, 2014
Divergent was amazing!
— Jake Austin Walker (@JakeWalkerActor) March 4, 2014
DONT EVEN ASK ME TO RATE DIVERGENT (movie) ON A SCALE OF 1 TO 10 IT BROKE THE SCALE
— mina (@stillintojustin) March 4, 2014
So @Divergent was hands down my favorite YA movie adaptation EVER. It wasn't perfect, missed things from the book, but it was glorious!
— Alyssa Barbieri (@alyssa_barbieri) March 4, 2014
Divergent was far better than I was expecting. Extremely surprised. #DivergentATL #Divergent #Atlanta
— Herman Phillips (@PhillipsHunter) March 4, 2014
Just saw a prescreening of @Divergent and I just have to say. Mind. Blown. Excellent movie and "red" carpet. #Divergent #Atlanta
— Alex Barrett (@Barrett012) March 4, 2014
#Divergent is absolutely amazing. I will DEFINITELY be seeing it again when it comes out! #Atlanta @Divergent
— Janna (@janniebananie) March 4, 2014
Guys I'm so fucking happy with life right now!!! The movie ended and it was amazing,as I expected!!!! You bet I'm going for a 2nd time!!
— Irwin Reyes (@IrwinReyes71) March 4, 2014
IT WAS PERFECT!! @VeronicaRoth @shailenewoodley #DivergentTour #Divergent
— Luth (@luth_taylor) March 4, 2014
Oh man you guys are going to be so happy with @Divergent #Divergent #DivergentTour
— Meghan Cooper (@JaMonkey) March 4, 2014